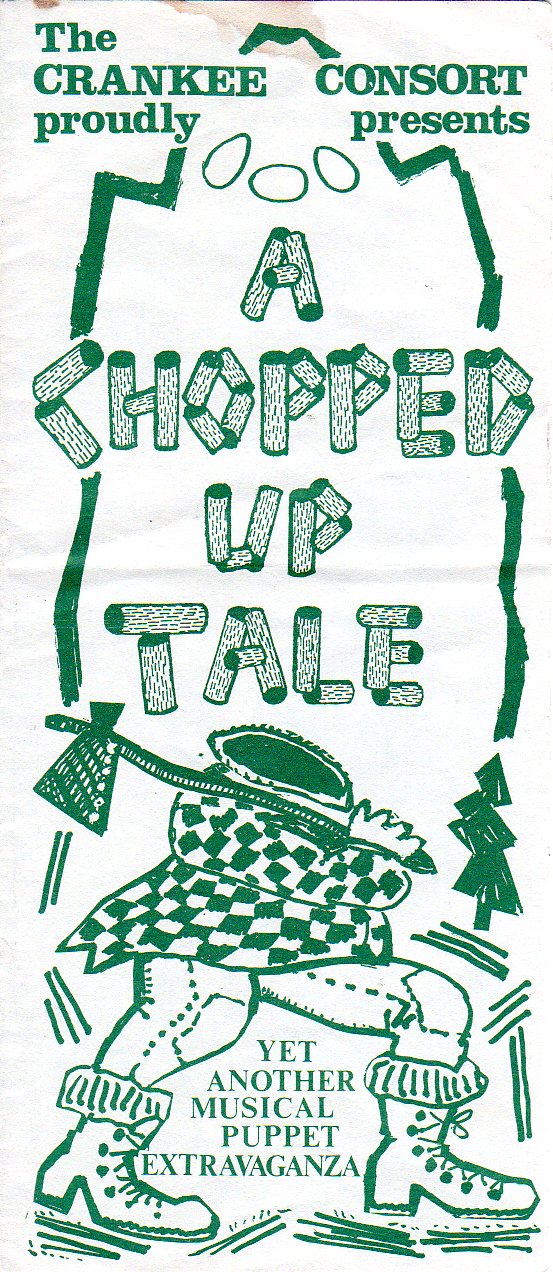 In 1987, I wrote a suite for a puppet theatre company in Toronto called the Crankee Consort. It was created and directed by Larry Lewis and Jane Low-Beer. My suite used numerous fiddle tunes and Canadian folk songs as a resource. The instrumentation was classical guitar, violin, accordion and double bass.
A guitar solo from this suite was published by the Royal Conservatory of Music in their Grade V method book. The following is a recording from the original production, featuring Larry Lewis on guitar:
La belle jarretiere verte:
Here are the other tunes, more or less in the order they appeared. The performers in the recordings are Larry Lewis, guitar; Joe Macerollo, accordion; Ann Lederman, violin; and a double bass player we knew as Jack.
Two woodsmen were chopping in the bitter cold. By mistake, one chops off his partner's head. He uses snow to freeze the head back on. To take his friend's mind off his troubles, he tells him the story of Ti-Jean.
Overture (This track is missing the guitar which was played live, like a Music Minus-One.):
Transition with Fiddle and Step Dancing:
Travelling Music, as Ti-Jean sets out on his adventure:
Old Man; music for the villain of the story. He has three daughters. If Ti-Jean can perform the task the Old Man sets for him, he can choose one of the daughters for his wife. If not, he will lose his head!:
Ti-Jean is about to leave, rather than risk his life. But… he sees the beautiful daughter known as La Belle Jarretiere Verte (The Beautiful Green Garter), and he falls in love:
Ti-Jean's task is to retrieve some golden eggs that are much too high to reach. La Belle helps Ti-Jean with his task. She instructs Ti-Jean to make a ladder out her bones, after he cooks her in a pot. (We didn't make that up. It is a whacky folk tale!) Next, Ti-Jean uses the ladder to climb up and reach the eggs. The tune was called Ladder Up:
Ti-Jean now must reassemble her bones to bring La Belle back to life. I used a variation on the tune Them Dry Bones to set up the dialogue that follows:
La Belle appears as beautiful as before, and once again, we hear her theme:
The Old Man is angry that Ti-Jean succeeded and furiously chases him  as he and La Belle try to get away. The Old Man transforms himself into a storm cloud, but La Belle becomes a white bird and Ti-Jean rides her to safety. Then the Old Man becomes a bird of prey, and La Belle turns her self into a wheat field, with Ti-Jean pretending to be a farmer harvesting his wheat. Then the Old Man becomes a huge red combine, a demonic harvesting machine, but La Belle becomes a lake and the combine sinks. At the end of the chase,  the Old Man emerges from the lake sputtering.:
After surviving the various threats, La Belle and Ti-Jean are married:
Later in the tale, there is a scene with a King and a Royal Fanfare was needed:
Eventually, the tale of Ti-Jean ends. The two Woodsmen each take a deep bow – one removing his hat, the other his head – and they exit to the music of the Finale: